The funeral arrangement date of Veteran Nigerian comic actor, Babatunde Omidina better known as Baba Suwe has been released by his family.
The news of his demise was confirmed by the president of the Theatre Arts and Motion Picture Producers Association of Nigeria, Bolaji Amusan also known as Mr Latin.
The late actor's son, Adesola Omidina took to his Instagram profile to disclose arrangement the family had made to lay their father to rest.
According to a statement signed by Adesola on behalf of the family, the internment would begin at 10 a.m. at the deceased's residence at 26, Oluwatimiro Street, Ewu Elepe Busstop, Ijede Road, Ikorodu, Lagos.
Adesola also added that the final funeral service for his late father  would be announced at a later date.
According to the notice, Baba Suwe is survived by his children, grandchildren, aged mother, and other relations.
Sharing the photo he wrote: Burial Rite of Babatunde Omidina "Babasuwe" will commence at his residence (Elepe) @ Babasuwe's House on
Thursday 11/25/21 @ 10am prompt.
Age: 63 years
The final Funeral ceremony will be announced later! Survived by: Children, Grandchildren, Mother and family! Signed by: Adesola Omidina. (For the Omidina Family). 11/23/21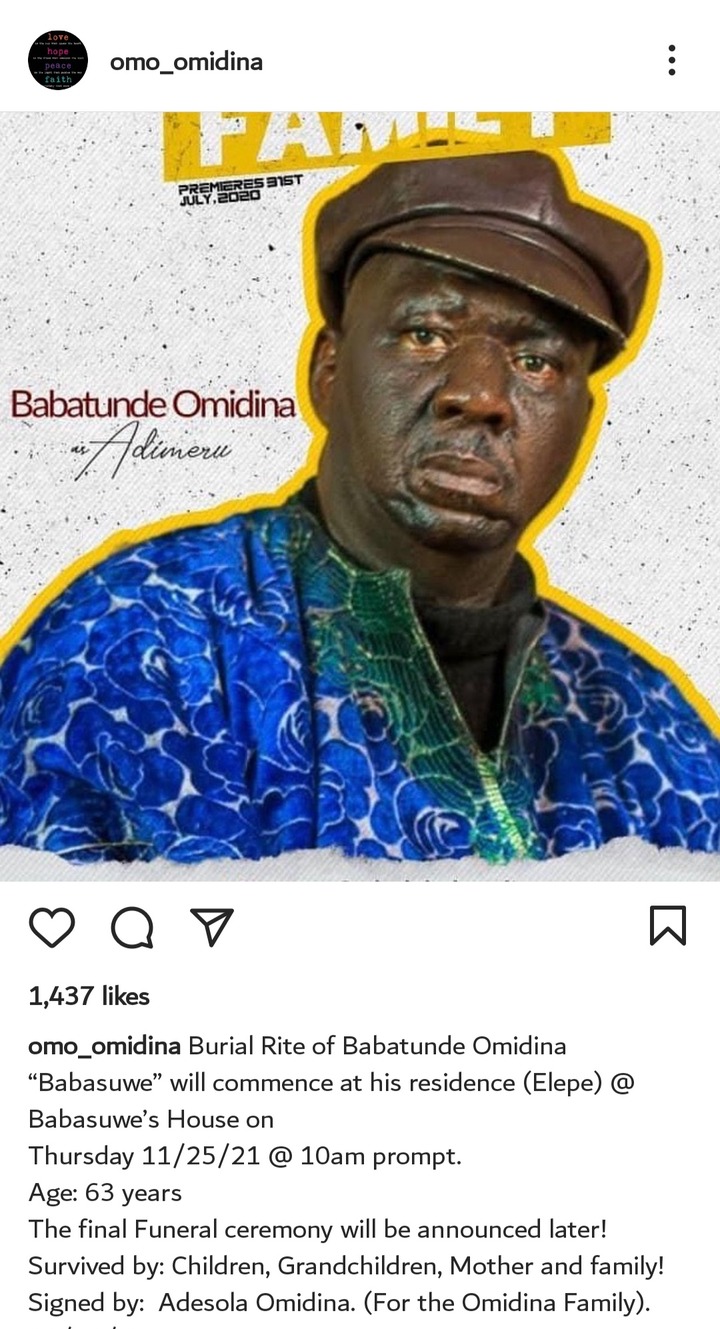 Babatunde Omidina, better known as Baba Suwe, rose to prominence after starring in Olaiya Igwe's 1997 film Iru Esin. He has starred in and produced a couple of Nigerian films, including Baba Jaiye Jaiye, in which he co-starred with Funke Akindele and Femi Adebayo.
In 2011, he was accused with cocaine trafficking by the National Drug Law Enforcement Agency, but the Lagos State High Court determined that the claim was false and defamatory.
The actor's health issues were made public in 2019 when he was rumored to be suffering from an unknown ailment.